If you are seeking a DJ for your events or party...
look no further!
Tim Trappett a.k.a DJ RELLIK has been working in the industry for over 15 years and has experienced every live scenario and party performance there is, from small house party to festival events. His ability to cater to a wide range of audiences has seen Tim Dj at corporate events, Weddings, Dance Parties, Night clubs, pubs, 21st parties, 30th parties. He has held many long standing residencies at venues across Melbourne and has had enough experience at ground level to understand what is needed to make a night musically successful.
Phone Tim on 0402318418 or email: This email address is being protected from spambots. You need JavaScript enabled to view it. for a quote and to talk about styles of music you wish to have played and to discuss in detail what it is you need for your night to be a success.
Basic Beginners: DJ Lessons
Topics that we cover, choose what suits you.
Learn about the following:
functions of mixers, CDJs, decks and headphones
how to connect up a DJ console
how to perform a cut mix
how to use hot cues
how to bar and phrase mix
how to mix your records using EQ
making your own demo CD
music theory basics
structuring your set according to style, energy and key
how to mix different music styles (R&B, Hip Hop etc)
how to mix with acappellas
how to use effects while you DJ
how to start your own night
basic scratching techniques
CDs Turntable techniques
cue points, constant key, loop functions
and other advantages of working digitally.
Lesson overview
These lessons are designed for anyone with little or no experience of mixing. Whether you are taking your first steps in a career as a professional DJ or just want to create Your own mix CDs, these sessions are designed to provide long-lasting results in a short time.
The sessions are mostly practical mixing. Particular attention is given to those critical elements that make the difference between just mixing and being a great DJ: with a lot of fun stuff on top!!
About Musical Styles
The techniques covered in these lessons apply to any musical style, but we make every effort to provide tutoring that is as specific as possible to the individual interests of our students. When you apply for lessons we ask about your musical preferences, and ensure to cater to that style.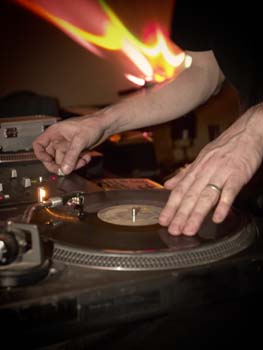 Live scratch DJ
Tim Trappett a.k.a DJ RELLIK is available to record scratching for your tracks. Contact us to discuss details of your recording or live performance. Please download DJ RELLIK's scratch demo here. Having a live DJ for your Hip Hop act is essential. Never attempt to release hip hop without consulting your local DJ!!!